Plasma Grenade (D20 Modern Equipment)
From D&D Wiki
Plasma Grenade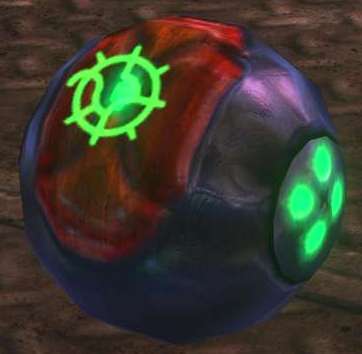 PL 7 Covenant Empire
Superheated Plasma
The Type-1 Anti-Personnel Grenade, AKA Plasma Grenade or "Sticky", is the Covenant Anti-Personnel weapon which explodes a short time after coming to rest.
Thrown Explosive (Simple Weapons Proficiency)
| | | | |
| --- | --- | --- | --- |
| Damage | 4d6 | Magazine | — |
| Critical | - | Size | Small |
| Damage Type | Energy | Weight | 2 lbs. |
| Range Increment | 10 ft. | Purchase DC | 25 |
| Rate of Fire | - | Restriction | Mil (+3) |
Plasma Grenade
[
edit
]
The Plasma Grenade is the main grenade used by the Covenant. It has adhesive properties; a creature or Character that throws a grenade can throw it like a standard grenade, or as a ranged touch attack may aim for a specific creature. On a successful hit, the creature or character must pass a DC 15 reflex save or be "stuck". A "stuck" creature of character takes double damage from the Plasma Grenade and may not make a reflex save to half the damage. When the grenade explodes, the center of the explosion is the space which the "stuck" creature or character occupies when the grenade explodes. A miss works as normal for a thrown splash weapon, and a passed reflex save signifies that the grenade lands in the space that the character occupies, and that the character is not "stuck" A plasma grenade explodes at the end of the round. The purchase DC shown is for a box of 6 grenades.
See this page for background information.
---
Back to Main Page → D20 Modern → Equipment
Back to Main Page → D20 Modern → Campaign Settings → Halo → Equipment → Weapons.