OICW (D20 Modern Equipment)
From D&D Wiki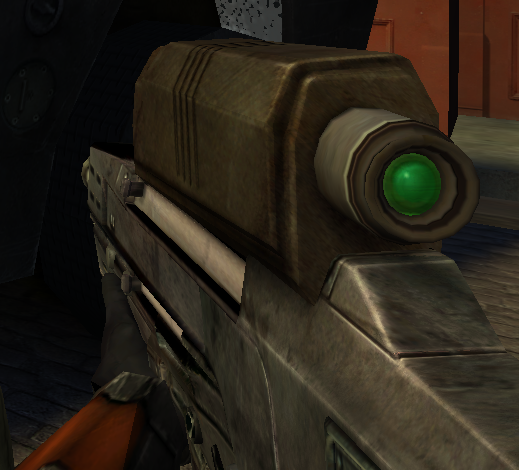 | | |
| --- | --- |
| Size | Large |
| Critical | 20 |
| Range Increment | 60ft |
| Type | Ballistic |
| | Weapon |
| --- | --- |
| Purchase DC | 25 |
| Restriction | Mil (+3) |
| Damage | 2d8 |
| Rate of Fire | A |
| Magazine | 50 Box |
| Weight | 39,1/2 lbs |
| Scope | + 60ft |
The OICW (Objective Individual Combat Weapon) was being tested by the US military before and during the 7 Hour War. After the Combine successfully invaded and occupied Earth, the OICW became it's primary weapon of choice and was outfitted with a number of new Combine technologies. It is used commonly by Overwatch Soldiers and Resistance Soldiers, along with the MP7 and the AR2 Pulse Rifle.
The OICW is a select-fire rifle, which means that it can be switched from automatic to semi-automatic as a standard action.
When using it's full-auto mode the OICW fires at a rate of 5 shots per round. In this mode, the user may not use the scope, as it locks down on switching to full-auto. When using it's semi-auto mode the OICW fires at a rate of 2 shots per round. The upside to this is that the user may use the weapon's scope while on semi-auto.
The OICW's scope can be used when firing on semi-automatic mode or while not firing at all. This scope has a range of 60ft, and can be aimed down as a standard action. This grants the user a +2 circumstance bonus on all attack rolls with this weapon for as long as they are aiming down the scope.
The player cannot aim down the scope while moving.
---
Back to Main Page → D20 Modern → Equipment