Alien Blaster, Firelance (Fallout Supplement)
From D&D Wiki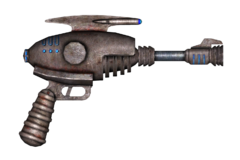 PL 9+ Alien Power Cell 1/shot Handgun (Alien Weapons Proficiency)
| | | | |
| --- | --- | --- | --- |
| Damage | 4d10 | Magazine | 10 Int |
| Critical | 18-20 | Size | Small |
| Damage Type | Energy | Weight | 2 pounds |
| Range Increment | 75 feet | Purchase DC | 33 TU/330 Caps |
| Rate of Fire | S | Restriction | Very Rare, East Coast |
Description
[
edit
]
A prototype variant of the Alien Scout Blaster, the Firelance is a powerful weapon that not only deals energy damage similarly to the Scout blaster, but catches its targets on fire as well, dealing extended damage over time.
d20 Modern Rules
[
edit
]
This weapon is a mastercraft weapon, thus imparting a +1 bonus to attack rolls.
Any creature or flammable object that takes damage from the Firelance catches on fire, taking 1d6 points of fire damage each subsequent round until the flames are extinguished. A fire engulfing a single creature or object can be doused or smothered as a full-round action.
All critical threats with this weapon are automatically confirmed.
Successful critical hits that reduce an enemy to 0 HP or below will reduce the enemy to a pile of blue ash, but all armor, weapons, and equipment on the body remain undamaged.
The beam also instantly ignites any flammable gas it touches, in addition to materials like paper and gun powder.
Weapon Mods/Variants
[
edit
]
Combat Sights
Damage Bonus, Energy Pistol
Extended Magazine, Alien
Magnetic Accelerator
Recycler
Scope, Handgun

Craft/Repair
[
edit
]
Repair: (Parts DC: 40; Parts Used: 10; Repair DC 25; Time: 10h) A Firelance can be repaired with mechanical parts with a Repair check. Alternatively, another Firelance, Alien Scout Blaster or Alien Shotgun Blaster can be used in place of parts (a Repair check is still required). This gun is affected by the Jury Rigging feat, and as such can use other alien weapons for parts if the feat is possessed.
---
Back to Main Page → D20 Modern → Equipment
Back to Main Page → D20 Modern → Campaign Settings → Fallout → Equipment → Weapons → Energy Weapons → Alien Pistol