Whip Claw (4e Equipment)
From D&D Wiki
Whip Claw
Superior Melee Weapons
One-Handed
| Weapon | Prof. | Damage | Range | Price | Weight | Group | Properties |
| --- | --- | --- | --- | --- | --- | --- | --- |
| Whip Claw | +3 | 1d4 | — | 30gp | 1 lb. | Flail, Unarmed | Entangle, Off-hand, Reach, Tripping, Disarming |
| | | | | | | | |
A whip claw is a glove with sharp clawed fingers that end with a length of thin but strong wire.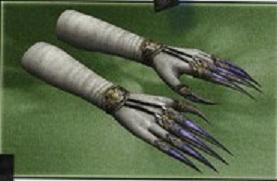 Entangling
When attempting a grab, you may add the whip claw's proficiency bonus to the attack roll.
Off-hand
The whip claw is light enough that you can hold it and attack effectively with it while holding a weapon in your main hand. You can't attack with both weapons in the same turn, unless you have a power that lets you do so, but you can attack with either weapon.
Reach
You can attack enemies that are 2 squares away from you as well as adjacent enemies, with no attack penalty. You can still make opportunity attacks only against adjacent enemies. Likewise, you can flank only an adjacent enemy.
Disarming
You can use the whip claw to make a disarming attack.
Tripping
You can use the whip claw to make a tripping attack.
---
Back to Main Page → 4e Homebrew → Equipment → Mundane Weapons