MJOLNIR Mk VI (D20 Modern Equipment)
From D&D Wiki
MJOLNIR Mk VI
[
edit
]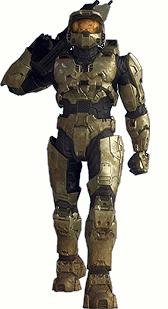 MJOLNIR Mk VI
| | Armor |
| --- | --- |
| Type | Tactical |
| Equipment Bonus | +9 |
| Nonprof. Bonus | - |
| Max Dex Bonus | +8 |
| Armor Penalty | -0 |
| Speed (30ft) | 45 |
| Weight | 1000lbs |
| Purchase DC | 130 |
| Restriction | Mil (+3) |
MJOLNIR Mk VI
[
edit
]
The Mark VI is equipped with a personal energy shield, making the Spartan wearing it all but invincible. Only Spartans are capable of wearing Mark VI due to the circuitry and design of the suit. A non-augmented human would require a superhuman level of strength (Approximately 36) to even attempt to move the armor without risking breaking bones with every tiny movement or even death. It possesses a Motion Tracker. The Mark VI grants a character +8 Strength, a +6 bonus to his Dexterity score and increases his speed by 15ft. Mark VI armor includes several gadgets from both the core/future and future tech rule books.
Gadgets
Increased Range of Motion x7
Segmented Plates x4
Life Support (30min)
Personal Shield Generator (SP 20)
Integrated Weapon- Power Cestus (pair +2d4 lethal unarmed)
Spartan Helmet
 -Darkvision
 -Aquatic Air Filter

Heads-up Display (HUD)
  Feats: Alertness, Guide.

Full-Body Energy Shielding 22/14
See this page for background information.
---
Back to Main Page → D20 Modern → Equipment
Back to Main Page → D20 Modern → Campaign Settings → Halo → Equipment → Armor.