C-14 Impaler (D20 Modern Equipment)
From D&D Wiki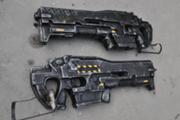 PL 5+ Terran (Universal) 8 mm Armor Piercing Rifle (Personal Firearms Proficiency)
| | | | |
| --- | --- | --- | --- |
| Damage | 2d10 | Magazine | 200 Box |
| Critical | 20 x2 | Size | Large |
| Damage Type | Ballistic | Weight | 200 lbs |
| Range Increment | 80 ft. | Purchase DC | 20 |
| Rate of Fire | S/A | Restriction | Mil (+3) |
C-14 Description
[
edit
]
The Impaler is fully automatic with a fire rate of 30 rounds per second, although fully automatic fire is discouraged under most circumstances. A capacitor system is used to fire the weapon in short bursts, conserving ammunition and minimizing power requirements. Due to this, the C-14 rifle has high recoil; CMC armor is designed to suppress this. The armor can also supplement the rifle's power supply. The rifle features a torch function, a retractable bayonet and can be used in conjunction with a M98 ballistic alloy combat shield. The rifle has an LED (light-emitting diode) magazine capacity indicator, showing how much ammunition remains in its magazine (hundreds of rounds). In addition, the rifle can launch fragmentation grenades and can accept a laser designator and RPG components. Grapples may also be fired from the muzzle.
The C-14 is capable of firing a wide variety of ammunition;
Armor piercing: Used against heavily armored targets.
Depleted uranium: Encompass U-238 shells/spikes. The most popular variant among marines given that they extend the rifle's range up to 25%.
Hollow point spread: Flatten and expand on impact for maximum wounding efficiency. Custom made by Ardo Melnikov.
Incendiary: Used against structures.
Steel tipped: Used to maim rather than kill an enemy
---
Back to Main Page → D20 Modern → Equipment