Sneering Imperialist (Fallout Supplemental)
From D&D Wiki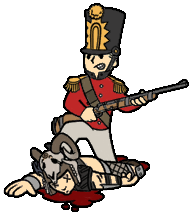 Sneering Imperialist [Combat]
You don't take kindly to raiders, junkies, or tribals trying to "settle" or "stay alive" in civilized lands.
Prerequisite: Level 15+
Benefit: Against Junkies, Squatters, Criminals, Tribals and Raiders you gain a +3 bonus to your attack rolls and a 25% bonus to attack damage inflicted.
Special: Fractions are rounded down.
---
Back to Main Page → D20 Modern → Feats
Back to Main Page → D20 Modern → Campaign Settings → Fallout → Feats