Halflings, Plains (3.5e Race)
From D&D Wiki
Plains Halflings
[
edit
]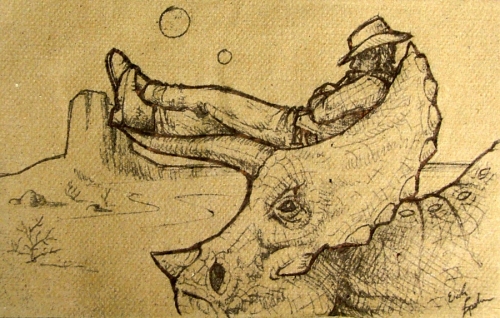 Personality
[
edit
]
Unlike most halflings, the plains halflings tend to have a more serious, war-like tendency.
Physical Description
[
edit
]
Plains halflings stand approximately four feet tall with sun-browned, leathery skin. They typically have hair ranging from red to brown. Their eyes are usually brown, but can range across the spectrum.
Relations
[
edit
]
The Plains Halflings get along extremely well with Otterlings and Sandstorm Dwarves, but are mildly stand-offish to most elves. They tend to attack humans and gnomes first then they ask questions.
Alignment
[
edit
]
Any good, but most tend to lean Chaotic Good.
They live in the deserts and plains regions in the extreme north of Shekastkoré called Tufanshen.
Religion
[
edit
]
They follow the Shekastkoréan Pantheon, typically favoring the Lesser God, Befria.
Language
[
edit
]
All speak Common and Halfling. Most others speak at least one of the following fluently: Dwarven, Elven, Gnome, and Goblin.
The only constant in their names is a color. This color depends on what is around the mother at the time of naming, as well as any portents. For example: Obsidianred Beastclaw.
Racial Traits
[
edit
]
Humanoid (Halfling): Taller than the average halfling as well as accomplished lizard riders.
Small: As a Small creature, a plains halfling gains a +1 size bonus to Armor Class, a +1 size bonus on attack rolls, and a +4 size bonus on Hide checks, but she uses smaller weapons than humans use, and her lifting and carrying limits are three-quarters of those of a Medium character.
Plains Halfling base land speed is 20 feet.
+1 racial bonus on all saving throws.
+2 morale bonus on saving throws against fear: This bonus stacks with the plains halfling's +1 bonus on saving throws in general.
+1 racial bonus on attack rolls with thrown weapons and slings.
Automatic Languages: Common and Halfling. Bonus Languages: Dwarven, Elven, Gnome, and Goblin.
Vital Statistics
[
edit
]
Table: Plains Halfling Random Starting Ages

| Adulthood | Simple | Moderate | Complex |
| --- | --- | --- | --- |
| 20 years | +2d4 | +3d6 | +4d6 |
Table: Plains Halfling Aging Effects
Middle Age1
Old2
Venerable3
Maximum Age
50 years
75 years
100 years
+5d20 years
Table: Plains Halfling Random Height and Weight

| Gender | Base Height | Height Modifier | Base Weight | Weight Modifier |
| --- | --- | --- | --- | --- |
| Male | 4' 0" | +2d4 | 30 lb. | × (1) lb. |
| Female | 3' 10" | +2d4 | 25 lb. | × (1) lb. |
---
Back to Main Page → 3.5e Homebrew → Races
Back to Main Page → 3.5e Homebrew → Campaign Settings → Shekastkoré Campaign Setting