Theogars (3.5e Race)
From D&D Wiki
Theogars
[
edit
]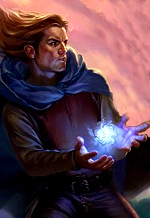 Personality
[
edit
]
A typical day for a Theogar, is an above average day for everyone else. Everyday is fun for a Theogar, and everyday there is something to explore. Theogar's natural charisma makes this attitude infectious, and the people that associate with one will most likely start to see the world as a Theogar does, a playground.
Theogars are also extremely loyal. Because of their low intelligence, they tend to cling to the leaders of the party, and will fight to the death to protect said leaders. The extra toughness they have gained from there rugged swampy homeland only aids this endeavor.
Theogars also love to fight, and barroom brawls are common in Theogar towns.
Physical Description
[
edit
]
Theogars are just as attractive as Theodians, except its more of a "rugged" look, than the traditional theodian "classy" look. Heights range from about 5'9" to 6'9". Their eyes are still blue, but Theogars have been found with non-white hair.
Relations
[
edit
]
Theogars view other races just like a Theodian would.
Alignment
[
edit
]
Any good, but tend towards chaos over law.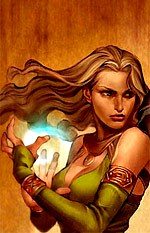 Theogars live on the Insula de Palus, in the Theodian archipelago.
Religion
[
edit
]
Unlike their cousins, Theodians, Theogars are a very spiritual people. A Theogar sees himself as part of the earth, and from that is where they derive their spellcasting abilities. Theogars do not see their sorcery as a different type of magic as Druidism, they simply see it as the natural world manifesting itself in a different way.
Language
[
edit
]
Theogars speak a heavily accented common.
See Theodian.
Racial Traits
[
edit
]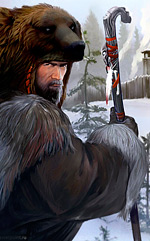 +2 Constitution, +4 Charisma, -2 Intelligence, -2 Wisdom
Humanoid (Theodian)
Medium. No size related bonuses.
base land speed: 30 feet.
+4 racial bonus on Spellcraft, and a +2 racial bonus on knowledge (Arcana). Futhermore, a Theogar always has Knowledge (Arcana) as a class skill.
Low-light vision: A Theogar can see twice as far as a human in starlight, moonlight, torchlight, and similar conditions of poor illumination. He retains the ability to distinguish color and detail under these conditions.
Spell Resistance equal to their Character Level + 10 (only applies to arcane magic).
Natural Connection (Ex): Because of their natural connection to their woodland home, Theogars can use their Charisma bonus instead of their Wisdom bonus for spellcasting for the Druid and Ranger class (and only the druid and ranger).
Magical Aptitude (Ex): Theogars gain a +1 bonus on all caster level checks.
Arcane Mastery (Ex): Theogars gain a +2 bonus to saving throws against arcane spells.
Arcane Signature (Sp): A Theogar can cast arcane mark as a spell-like ability at will.
Backwater Conditioning (Ex): A Theogar gains Endurance as a bonus feat. Futhermore, a Theogars gains +1 extra hitpoint every level.
Born Brawler (Ex): A Theogar gains Improved Unarmed Strike as a bonus feat.
Spells: A Theogar character casts spells as a 3rd-level Sorcerer OR Druid (player's choice). If the character takes additional levels in Sorcerer or Druid, these levels stack with the Theogar's base spellcasting ability for spells known, spells per day, and other effects dependent on caster level. A Theogar character likewise uses the sum of its racial spellcasting levels and class levels to determine the abilities of its familiar/animal companion.
Automatic Languages: Common. Bonus Languages: Dwarvish, Hafling, Orcish, Draconic, Aquan.
Illiteracy: A Theogar must spend 2 skill points to gain the ability to read and write all languages he is able to speak.
Favored Class: Druid or Sorcerer.
Vital Statistics
[
edit
]
Table: Theogar Random Starting Ages

| Adulthood | Simple | Moderate | Complex |
| --- | --- | --- | --- |
| 20 years | +1d4 | +2d4 | +3d4 |
Table: Theogar Aging Effects
Middle Age1
Old2
Venerable3
Maximum Age
45 years
80 years
100 years
100+1d20 years

At middle age, −1 to Dex; +1 to Wis.
At old age, −2 to Dex; +1 to Wis.
At venerable age, −3 to Dex; +1 to Wis.
Table: Theogar Random Height and Weight

| Gender | Base Height | Height Modifier | Base Weight | Weight Modifier |
| --- | --- | --- | --- | --- |
| Male | 5'9" | +2d6 inches | 180 lb. | × 1d8 lb. |
| Female | 5' 6" | +2d6 inches | 150 lb. | × 1d6 lb. |
---
Back to Main Page → 3.5e Homebrew → Races