Peccary (3.5e Creature)
From D&D Wiki
| | Peccary |
| --- | --- |
| Size/Type: | Small Animal |
| Hit Dice: | 2d8+4 (13 hp) |
| Initiative: | +1 |
| Speed: | 30 feet (6 squares) |
| Armor Class: | 15 (+1 size, +1 Dex, +3 natural), touch 12, flat-footed 14 |
| Base Attack/Grapple: | +1/-2 |
| Attack: | Bite +3 melee (1d4+2) |
| Full Attack: | Bite +3 melee (1d4+2) |
| Space/Reach: | 5 ft./5 ft. |
| Special Attacks: | Ferocity |
| Special Qualities: | Low-light vision, scent |
| Saves: | Fort +5, Ref +4, Will +1 |
| Abilities: | Str 13, Dex 12, Con 15, Int 2, Wis 13, Cha 5 |
| Skills: | Listen +6, Spot +5 |
| Feats: | Alertness |
| Environment: | Warm desert or plains |
| Organization: | Solitary or herd (6-30) |
| Challenge Rating: | 1 |
| Treasure: | None |
| Alignment: | Always Neutral |
| Advancement: | 3-4 HD (Medium) |
| Level Adjustment: | — |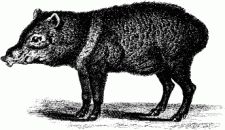 Peccaries are desert-dwelling relatives of the domestic pig. Adults grow to an average length of 3 feet and weigh between 40 and 60 pounds.
Combat:
[
edit
]
Peccaries are usually peaceful omnivores, but can be quite dangerous when threatened. They usually attack in groups, biting and tearing at their foes with their sharp tusks.
Ferocity (Ex): A peccary is such a tenacious combatant that it continues to fight without penalty even while disabled or dying.
---
Back to Main Page → 3.5e Homebrew → Creatures → CR 1