Dwarves, Virani (3.5e Race)
From D&D Wiki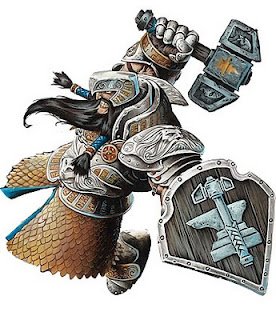 Virani Dwarves
[
edit
]
The dourest of the Shekastkoréan dwarves due to their constant battle with the undead, they are prone to dry, mocking humor and devoit piety to Jord.
Personality
[
edit
]
Like most dwarves, the Virani dwarf is typically gruff and stoic, but extremely loyal to those who have earned his trust.
Physical Description
[
edit
]
Like most of dwarvenkind, a Virani dwarf stands just under 5' tall. Due to spending much of their time underground, they are paler than most of their brethren. Their hair color ranges from light brown to black, and their eyes are usually pale blue to gray.
Relations
[
edit
]
The Virani dwarves get along well with most races with the exception of humans and gnomes. They are respectful of Red Bellows dwarves, but will not readily trust them.
Alignment
[
edit
]
Any good, but most tend to lean Neutral Good.
They live in and under the central desolate region known as Virani, but can be found in all areas of Shekastkoré.
Religion
[
edit
]
They follow the Shekastkoréan Pantheon, typically favoring the gods, Chufen and Jord.
Language
[
edit
]
All speak Common and Dwarven. Most others speak at least one of the following fluently: Halfling, Elven, Gnome, Goblin, and Orc.
Their naming convention follows the naming style found in the Player's Handbook.
Racial Traits
[
edit
]
Vital Statistics
[
edit
]
Table: Virani Dwarf Random Starting Ages

| Adulthood | Simple | Moderate | Complex |
| --- | --- | --- | --- |
| 40 years | +3d6 | +5d6 | +7d6 |
Table: Virani Dwarf Aging Effects
Middle Age1
Old2
Venerable3
Maximum Age
125 years
188 years
250 years
+2d6 years
Table: Virani Dwarf Random Height and Weight

| Gender | Base Height | Height Modifier | Base Weight | Weight Modifier |
| --- | --- | --- | --- | --- |
| Male | 4' 2" | +2d4 | 130 lb. | × (2d6) lb. |
| Female | 4' 0" | +2d4 | 100 lb. | × (2d6) lb. |
---
Back to Main Page → 3.5e Homebrew → Races
Back to Main Page → 3.5e Homebrew → Campaign Settings → Shekastkoré Campaign Setting