Lillam (3.5e Deity)
From D&D Wiki
| | Demigod |
| --- | --- |
| Symbol: | The Scythe, The Sword, And The Hourglass |
| Home Plane: | The Material Plane, City of Fate "Scramble & Lillam's Personal Plane" & All Transitional Planes |
| Alignment: | Lawful Neutral |
| Portfolio: | Vindicators, Charm, Knowledge, Courage, Celerity, Vengeance, Inquisition, Law, Magic, |
| Clergy Alignments: | Lawful Neutral, Lawful Good, True Neutral, and Lawful Evil |
| Domains: | Law, Celerity, Knowledge, Inquisition, Community, Magic, Glory, Death, |
| Favored Weapon: | Gunblades "two of Them" |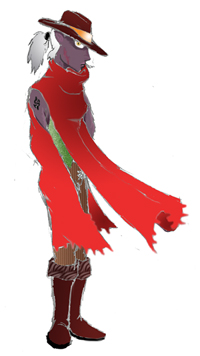 The half-drow daughter of Scramble who is a bit of a tomboy, is the law in the City of Fate and she knows it. Unlike her father who seems to be stuck in what he would call "the good old days" a time when you could massacrer whole towns and no one care. She is forward thinking Demigoddess who openly embraces the law and the value of life, as well as new technology and ways of thinking. In particular the new and more dependable firearms ware the worst thing that could happen to a smart user is jammed bullet. Unlike the firearms from father's time, that were rare poorly designed things that had nasty habit of blowing up.

Lillam is seen more often then her father who most of the time he is seen appears as a man in his late twenty instead of his true Venerable age, she however appears as she is a teenaged half-drow tomboy with a scar that crosses her throat and right cheek. The scar being the first and only thing that her mother gave her before her mother was killed in a fit of rage by her father. Lillam survived the injury by her father's divine power alone which he reminds her ever time she oversteps her station. as the result of his actions, Lillam become the first Vindicator.
Lilliam demands only one thing from her worshippers, loyalty. If one stays faithful to her then she will reward a hero generously with items such as gold, and healing supplies. However those followers who are faithful enough to agree to serve her in both life and death will be rewarded with whatever they need or desire most.
Clergy and Temples
[
edit
]
<!< A description of the Deity's clergy and the temples that they keep. >>
---
Back to Main Page → 3.5e Homebrew → Deities → Demigods