Chupadore (5e Race)
From D&D Wiki

The primary contributor has requested no further edits to this page by anonymous users
The user above has requested no further edits to this page by anonymous users. This page is considered complete and balanced to a degree. As such, the page has been locked so that only registered users can edit it. If you are an IP user and wish to make alterations to this page, or you see an error, please discuss it on the talk page. If this page is not fully protected, please either contact an administrator or remove this template.
Chupadore
[
edit
]
Chupadores (Homo chupadorae, or "chupas" for short) are bipedal mammals (with some reptilian features) failing from the kingdom of Sicra, a place which every so often would have a war happen between different Chupas (known as a Holy War) to determine who has control over the kingdom.
Physical Description
[
edit
]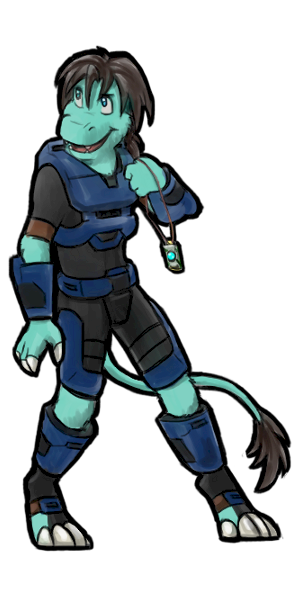 L. Tucker, a shi'a (felis-catus) Chupadore.
Chupas sport a wide variety of hair, fur and body types, resulting in a variety of breeds. In general, two major body types are recognized: shia (shi'a) and fila (fi'la). Of the two types, shia chupas are short-statured, standing between 5'-6'. They're identified by their long legs, short feet, small neck and upright posture. Conversely, fila chupas are known for their shorter legs, longer feet, broad neck and slightly stooping posture. When standing upright, filas can reach over 7' in height. Both types walk on their toes, utilizing their long tails for balance, although fila chupas are adept at running on all fours, while shias are better sprinters on two legs. Filas are generally regarded as the faster, stronger and hardier of the two types, whereas shias are more crafty and intelligent (although it's considered rude to compare intellect on that basis.) Deviations among the two body types are due to inter-breeding, which is gradually rendering the distinction obsolete. It's partly for this reason that racial tension between chupas is drawn from color rather than breed.
Chupa fur appears in a wide range of colors, from bright yellow, red, green and blue to brown and grey. The pelt is a solid color from birth, although adolescents may develop spots, stripes or other dark patterns that fade as they mature. Chupas also grow a mane of hair on top of their heads, and a matching tuft on the tips of their tails. Like their fur, the color of this hair varies wildly from individual to individual and does not necessarily match the color of the fur. The fur of elderly chupas grows long to match the length of their manes, giving them a "shaggy" appearance.
Males are taller and more muscular than females, whose wider hips and higher percentage of body fat facilitate child-bearing (much of a female's fat is stored in her tail.)
History
[
edit
]
The name of the kingdom where the Chupas live, Sicra, comes from an old legend about Sirca, a giant black she-cat who devoured a falling star. From this star Sirca conceived and gave birth to a litter of chupas, the first in the world.
The House of Omega perverts this legend a bit, saying that Omega came riding into the world on that falling star, and that the chupa race was conceived when Omega coupled with Sirca. In many older churches, there are murals depicting both versions of the legend, with Omega's sigil drawn on the body of a comet that's being swallowed by the mother-cat.
However, historical documents dated more than 500 years (or in reference to factual events more than 1,200 years ago) are withheld from public access by the central government. For this reason, much of a chupa's knowledge of history comes from oral lore, passed from elders to children, and as such not much is known about Chupa history before then.
Society
[
edit
]
The central governing body is the House of Omega, an organization of priests who obtain divine guidance from their deity, Lord Omega. Omega's word is regarded as the highest law, while priests carry out his bidding in temples and offices across the land. The House of Omega is seated in the Chupa capital city of Omegrad, while the immortal Lord Omega resides in his citadel in Kaprime. The Circle of High Priests convene in Omegrad to interpret Omega's law and issue ordinances to the common people that are enforced by the police and military. On top of preaching Omega's word to the people, Omegite priests serve many public functions, from arbitration to tax collection. Civil disputes or other calls for justice are brought before priests for a swift and undisputed trial, often with sentences (up to and including capital punishment) carried out the same day.
Chupas speak a single common language and possess a common alphabet for written correspondence, which they share with other kingdoms. The standard currency of the kingdom of Sirca is "bucks," minted nickel coins that bear Omega's sigil on one side. Books and records are kept in schools and libraries for public access and education.
Apart from agriculture, most industries in chupa civilization are centered around warfare, with the majority of scientific research conducted and controlled by the military. Many of the Chupa's tools, buildings and vehicles were developed with military applications in mind.
Chupa society is a militant one, marked by a succession of holy wars sanctioned by the House of Omega. In such wars, two opposing armies are drafted from the population and organized into Red and Blue, according to a chupa's birth-color. The armies are allowed to choose their mascot and flag design and then are each assigned a capital city. The objective of the holy war is to capture the opposing army's capital base. The victorious general will be bestowed a seat of honor in the House of Omega, and his army assured control of all of the Sicran territories until the next holy war is declared (and then only by Lord Omega himself.)
Soldiers for a holy war are collected from every city of Sicra. Many city-states make enlistment compulsory for males upon either completion of schooling or reaching an age of fifteen, while for females it is voluntary. Other cities hold a draft by lottery under the same criteria. There are also conscripts, which are convicted criminals allowed to serve in the army as a form of parole.
Although it is considered a sacred calling to fight--and die--in a holy war, these often escalate into bloody and devastating affairs, leaving countrysides ravaged, families without children and cities in ruins. Omega's Circle of High Priests eventually put a stop to needless slayings (and the impending destruction of Sicra) by drafting the High Law of Conflict, which states:
• Red and Blue armies will compete for territories by capturing the flags of their opponent's bases. Each territory houses a flag that is safeguarded at a central base, and whichever army claims it may submit that claim to the House of Omega for control of the whole territory. From that point on, all the people of that territory are obligated by the High Law to support the occupying army with its resources. Any citizen of the territory who has a complaint with their ruling army may enact their freedom to remove themselves from said territory. • In return, fighting is forbidden in any civilian city or on holy grounds, which are marked by flags with Omega's emblem. Soldiers are not permitted to set foot in city limits, else they are considered AWOL (Absent Without Leave), which is punishable by death. • Should these laws be broken, neither the perpetrators nor their supporting army will have their territorial claims recognized by the House. • Should the breach of these laws be especially heinous, Lord Omega will call for the disposal of the perpetrators.
Despite these lawful safeguards, many civilians consider it a blessing that holy wars are only declared every few hundred years.
Chupa Names
[
edit
]
Male:
Female:
Base Chupa Traits
[
edit
]
Ability Score Increase. Your Dexterity score increases by 1. Depending on the breed, you get an increase of 1 to two stats in addition to the bonus to Dexterity.
Age. Chupas reach adulthood after about 9 years and live for about 30-40 years.
Alignment. Chupas tend toward no particular alignment. The best and the worst are found among them.
Size. Depending on the breed, Chupas can vary from 4 foot tall to over 7 foot tall. Your size is Medium.
Speed. Your base walking speed is 35 feet, and your base climb speed is 10 feet.
Damage Vulnerability: Fire. You have vulnerability to fire typed damage
Powerful Build. Chupas are not only known for their speed but their carrying strength. You count as a Large size creature when determining carrying capacity and the weight you can push, pull or lift.
Agile Combatant. Chupas are normally on the move when fighting, constantly running and ducking, strafing and dodging when attacking an enemy. As a reaction, you can grant yourself advantage on a Dexterity saving throws, provided you are not wearing heavy armor and not wielding a weapon with the heavy property.
Natural Weapons. Chupas have sharp claws and teeth which they can use in a fight. You have two natural attacks: a 1d6+Strength claw attack which deals slashing damage, and a 1d4+Strength bite attack which deals piercing damage.
Languages. You can speak, read, and write Common.

Shi'a Breeds
[
edit
]
The Canis breed is the most commonly encountered on Sirca, and is officially connected to the fi'la bloodline. They are noted for their pronounced canine fangs, a strong sense of smell, and thick claws best suited for digging.
They are highly sociable and like to band together in groups. These "packs" are naturally drawn to chupas with strong leadership qualities, and quickly form a pecking-order around the "top dog." Larger packs may suffer from a collective mob-like mentality called a "pack mind" that may spiral out of control into violence if provoked. A Canis Chupa is very loyal to both relatives and close friends, and often form large extended families.
Ability Score Increase. Your Charisma score is increased by 1, and your Dexterity score is increased by 2 instead of the base bonus.

Adustus
[
edit
]
The thick, banded hairs of the Adustus breed make a coarse, ticked coat of fur that keeps out dust blown by prairie winds. Their long snouts and stubby claws are typical of Canis subbreeds, even if their size is below the average for those breeds. Their sinewy arms and feet don't carry a lot of strength, yet provide quick bursts of speed and power.
Adustus share the Vulpes stereotype for being shifty pranksters, only without the beguiling looks to soften their reputation. At a glance, they're called thieves and vagrants, and some embrace this perception, becoming crooks and criminals. Their rogue-ish charm and cleverness are considered an asset to any group, yet despite this, adustus doesn't tend to form packs like other Canis breeds, and prefers to work alone. It's their hardiness and resourcefulness that makes them such a tenacious breed, able to survive on their own where few could. Their ability to "think outside the box" also makes them good engineers or lawyers.
Ability Score Increase. Your Intelligence score is increased by 1, and your Dexterity score is increased by 2 instead of the base bonus.

The Bison breed is a large, stout, highly-muscular breed of chupa. Their lower bodies have short hair, while the fur on their arms and upper chest is very shaggy. The hair of their manes is coarse and woolen, forming "afros" of tight curls. Their tails are short, and their claws are thick and stumpy, resembling hooves. They are known for their high levels of strength and stamina and are considered one of the tallest chupa breeds, some recorded standing up to 9' (2.7m).
Bison have a stoic nature and a strong work ethic, with a love of structure and order as well as a penchant for manual labor. They tend to form giant family groups with the eldest male serving as the patriarch, protecting the family with all his strength and wisdom. Bison Chupas have a reputation for being slow-witted and stubborn. They are also described as "thick-skinned," since besides their literally tough hides, they aren't easily fazed by insults. They are, however, sensitive to poking fun at their intelligence, especially since they love to read books of all kinds.
Ability Score Increase. Your Strength and Constitution scores are increased by 1 in addition to the base bonus to Dexterity.

Cervidae
[
edit
]
The Cervidae breed of Chupas has long necks, slender bodies, and legs built to propel them through the air. Their hoof-like claws are short and thick, so as not to catch on debris as they gallop through woods and brush. Funnily enough at the same time, the waves and curls of their manes and tail tufts are good at collecting leaves.
This breed is a social one and derives a sense of security from being in a crowd. Graceful and slender, Cervidae love to jump and dance. They're also extremely imaginative and make great writers and storytellers. Some are accused of being a little too eccentric for their own good, and groups of this breed may get carried away on their own whimsy (the "Pink Paint Protests" in Episemon are a testament to that.) Cervidae Chupas have a reputation for being radical thinkers that like to challenge the status quo, although their protests are largely peaceful. Their free-thinking open-mindedness makes them great intermediaries, although they're prone to see the best in people, even when they perhaps shouldn't.
Ability Score Increase. Your Charisma and Intelligence scores are increased by 1 in addition to the base bonus to Dexterity.

The Equus breed of Chupas is known for their short, dense, wiry fur and horse-like manes. Females grow longer manes than males, making one of the few cases of sexual dimorphism among breeds. They're also unique for having non-uniform fur colors that include patterns or markings on the head, back and rump. This sinewy breed has a lot of stamina and is adept at running long distances.
Equus are romantics at heart and love epic stories of heroes and lovers. As a result they're bred to love the glory of competition, especially in sports and war. As a breed, Equus take great pride in their rank and performance in any field they choose to pursue. They like to show off their strength, speed and intellect so much that some chupas either loathe or exploit them for these qualities. Hard-working and loyal, they are great laborers, and they'll even show aggression towards those standing in the way of their work. They also have a strong sense of justice and a desire to seek out the truth, so it's not surprising to find many become detectives, private investigators or journalists.
Ability Score Increase. Your Strength and Intelligence scores are increased by 1 in addition to the base bonus to Dexterity.

The Lupus breed is a large breed characterized by great upper-body strength, long necks and snouts, pronounced canine teeth, powerful jaws, and shaggy fur that covers the neck and tail.
This breed is exemplary of the pack-forming social hierarchies attributed to Canis types. Members of Lupus packs, regardless of blood-relation, are fiercely loyal to one another and cooperate in most aspects of their lives. Solitary lupus gravitate towards other chupas and assume roles of leadership, forming their own packs or gangs. A Lupus is a prime candidate for upper-management, especially in the military, where their fierce hunting instincts are valued on top of their charisma. This breed has a notoriously quick temper, and will lash out and take offense easily, starting a lot of fights. Lupus thrives on competition, both within their packs and with outsiders, and they take as much joy out of destroying their opponent as their ancestors did ripping the throats out of their prey.
Ability Score Increase. Your Strength and Charisma scores are increased by 1 in addition to the base bonus to Dexterity.

The Lutris breed has short limbs that make for awkward movement on land. In the water, however, the story is different. The feet and hands of lutris are wide, flat and tipped with tiny claws, with some webbed skin between digits to catch water. Their manes grow short and their fur soft and dense, allowing pockets of air to become trapped between the hairs for insulation from cold. Their tail is also thick, short and muscular, acting as a sort of rudder. On top of being strong swimmers, they have great lung capacity, and some can hold their breath up to five minutes. This breed is recognized by their short snouts and chubby cheeks, lending them a friendly appearance.
Lutris are master seamen and fishermen, and there are few parts of their lives that don't take place in or around water. This breed is energetic, passionate and fun-loving, so much that when young lutris decide to stray from the sea and strike out on their own, they're picked up by circuses and traveling performers that value these qualities.
Ability Score Increase. Your Wisdom score is increased by 1, and your Dexterity score is increased by 2 instead of the base bonus.
Chupa of the Waters. A Lutris is more at home in the water than on land. Your base walking speed is reduced to 30 feet, but you have a swim speed of ?? feet.

Ursus are a large, intimidating breed. Their height is second only to bison, and their bodies are packed with fat and muscle to make them as broad as they are towering. While their claws aren't as sharp as the ones on Felis breeds, they're still long enough to cause a lot of damage with a single swipe. Despite their girth and stocky legs, this breed also makes fast runners (yet to win a fight, all an Ursus usually has to do is stand their ground.) While not quick to anger, once they've been provoked into a rage, the carnage is complete and lethal. This breed is identified by their long snouts, stumpy, tuft-less tails, lacking mane, and the thick fur covering their entire body.
Considered grumpy loners by other breeds, Ursus prefer peace and solitude over large, busy communities. Ursus avoid conflict as much as possible and spend their days foraging for food and taking naps, saving their strength for tasks they deem worthwhile. They believe wholeheartedly in a "work smarter, not harder" philosophy, and are keen on finding shortcuts and solving puzzles rather than more direct or aggressive solutions. Sensitive to their environment, they prefer to be active during sunny days, and during extreme weather, they may grow tired and hole themselves up in their homes.
Ability Score Increase. Your Constitution and Intelligence scores are increased by 1 in addition to the base bonus to Dexterity.

Fi'la Breeds
[
edit
]
The Felis breed is the second-most common breed of Chupa and is officially tied to the shi'a bloodline. They are known for their thick, soft fur. As with Canis, Felis fur can change in length to adapt to a Chupa's climate. They're also identified by needle-like canine teeth, excellent night-vision, and claws that end in hook-like points which are good for climbing.
Felis chupas average a higher intelligence quotient than other breeds, which fosters both positive and negative stereotypes about this breed's cunning and craftiness. This breed is less inclined to form social groups than their Canis cousins. Most sub-breeds of Felis thrive in solitude and only loosely cooperate with other chupas to survive or mate. They can be very picky about their appearance (many recurring jokes about Felis are over their vanity.) They are capable of purring when happy and will make a hissing sound when scared or angry. Their skittish nature makes them easy to scare or startle.
Ability Score Increase. Your Intelligence and Strength scores are increased by 1 in addition to the base bonus to Dexterity.

Ailurus
[
edit
]
The Ailurus breed has a small-yet-robust build, with short limbs, large clawed hands and feet, and a long tail. They're characterized by their waddling gait, the dark-colored bands on their bushy tails, and the unique tear markings on their light-colored face. Their fur is long, soft and tends toward red hues (although purple and green variants are common.) Unlike other breeds, Ailurus keep their distinct stripes and markings into adulthood. Despite the thick fur coat, this breed is heat-sensitive and can't stand extreme temperatures. Layered clothing and knitted scarves are worn often.
This breed has a friendly-yet-solitary disposition. The best place to find an Ailurus is around a woodland cabin, where they seek out insects, tubers, beans and berries for their diet. Gardening is one of their favorite crafts, and it's not surprising to find an Ailurus with green fur to match their green thumb. They're also excellent climbers, which helps them forage juicer fruits and nuts from trees. They pour all these resources into their cooking, becoming some of the finest chefs around the ring. Although they thrive on their lonesome, they're known to be extremely gracious hosts that welcome visitors of all kinds and like to care for the needy. Few will take in a guest without offering them a generous helping of homemade bugbean stew.
Ability Score Increase. Your Wisdom and Constitution scores are increased by 1 in addition to the base bonus to Dexterity.

The Leo breed is another example of breed-specific sexual dimorphism. Males grow a large mane around the head and shoulders, while female manes grow as a small stripe from the top of the head to the base of the tail. The male's mane displays his good health, depending on its density and hue, and female Leo tend to choose mates on that basis. This breed is characterized by the massive strength in their arms and legs, capable of sprinting towards and grappling foes (and food) with ease. Their claws are sharp and sturdy for extra grip-power. While fur colors range along a Chupa's typical palette, this breed is noteworthy for their striking yellow irises.
Leo Chupas are atypically social compared to other Felis breeds and like to form clubs called "prides" around like-minded chupas, especially other Leo. Female Leo may use a pride to have polygamous relationships, which lends this breed a social stigma for licentiousness, even for prides based around something non-sexual (such as an archery club.) Chupababies are raised within these prides in order to learn a valuable trade, before being forced out of the pride upon the onset of puberty. Males can be laid-back and quite lazy, yet easily motivated (typically via machinations from female friends) to outdo other males that they consider rivals. Females, on the other hand, are very dedicated workers and perform best in teams. This breed exudes confidence and charisma, and has little trouble getting what they want--yet if diplomacy fails, they aren't above resorting to violence. To this end, many become career politicians, and Omega's highest circles of priests are filled with Leo.
Ability Score Increase. Your Strength and Charisma scores are increased by 1 in addition to the base bonus to Dexterity.

Leporidae
[
edit
]
This breed lacks a mane, and their short tails sport a fluffy ball of hair for the tuft. Although they lack upper-body strength, with their large feet and muscular legs Leporidae makes great athletes, especially in events that require speed and jumping (and impressively, kick boxing.) They are a short, compact breed with a high metabolism that creates a ravaging appetite, best-suited for foraging and snacking throughout the day. Leporidae are exceptionally fertile, and couples produce three-to-six chupababies per litter.
Energetic and light-footed, Leporidae can't be matched in sprinting contests, and their young love to challenge other chupas to races. They're also a highly curious and superstitious breed, so the ability to run away quickly has come in handy plenty of times for getting out of trouble. This breed is known for its short attention span, and their education may require specialised classes to compensate.
Ability Score Increase. Your Constitution score is increased by 1, and your Dexterity score is increased by 2 instead of the base bonus.

Pardus is a breed whose soft and silky fur is the envy of other chupas. Strands of their hair have a slight gradient that gives them an appealing "smokey" color. Among other Felis breeds, they have an average body height and lean, muscular build. Their manes and tail-tufts do not grow long, or in some cases at all. This breed has large feet and hands with needle-like claws, suited for grappling and climbing.
Pardus are not a social breed, and only seek out other chupas for mating or business purposes. Sometimes even child-rearing is delegated elsewhere, and parents see fit to send their offspring to the military or a trade school at the earliest age possible. Vain to a fault, Pardus will devote whole afternoons to preening and are prone to flaunting their talents whenever they venture into public spaces. Despite this (or perhaps because of it), Pardus most strongly value strength, grace, cunning and beauty, and will make devoted followers of any who surpass them in these qualities.
Ability Score Increase. Your Wisdom and Intelligence scores are increased by 1 in addition to the base bonus to Dexterity.

Sciuridae
[
edit
]
The smallest breed of Chupa, Sciuridae are identified by their bushy tails with ticked fur patterns, buck teeth, sloping brows, and long torsos with short limbs. They're quick and agile, with long digits and hooked claws suited for scaling tree bark.
Of all Chupa breeds, Sciuridae maintains most of their old-fashioned tribal customs and teachings. They resist modern encroachings, and even show open hostility to Red and Blue armies that build bases nearby. It is a rare privilege for an outsider to be welcomed into a Sciuridae home, so few reports of their way of life make it out of the jungle. Resident armies in Lactan call them "feral," and their territory "the Squirrelies." From a young age, Sciuridae are trained by their elders to focus their hyper-active nature into useful tasks and physical feats. Consequently, this breed produces hunters and warriors with much quicker reflexes than most chupas. It has even been said that Sciuridae can slow down time (technically, their perception of time is so fast that others around them appear to react more slowly.) This breed produces genius hunters and trackers, and police have often enlisted Sciuridae to track down fugitives and missing persons.
Ability Score Increase. Your Wisdom score is increased by 1, and your Dexterity score is increased by 2 instead of the base bonus.
Small and Strong. Sciuridae Chupas are the smallest of the Chupa breeds. Your size is Small, but you count as a Medium size creature when determining carrying capacity and the weight you can push, pull or lift.

With their slender bodies, dainty hands and feet, short limbs, pointy muzzle, and bushy tails, Vulpes have a petite look that can be disarming. They're uniquely equipped with sensory whiskers on their snouts that can feel out small spaces, fasciliating the breed's knack for hiding.
Vulpes are a quick-footed, boisterous breed. They are skilled with their hands, and craftsmen love to employ them to work with tiny, intricate parts. Curiosity and cunning are associated with this breed, as well as a penchant for mystique, and with that a stereotype for mischief and lawlessness. For good or for ill, this gives them an edge with traders and con-artists. Since bison control most of the trade between Stigma and Omegrad, it's not unusual to find a few Vulpes in their ranks as honorary members of the family, offering counsel in trade disputes. On the flip side of their shrewd nature, Vulpes are also notoriously capricious, easily-distracted and forgetful.
Ability Score Increase. Your Intelligence score is increased by 1, and your Dexterity score is increased by 2 instead of the base bonus.

Random Height and Weight
[
edit
]
Table: Chupa Random Height and Weight

| (Main) Breed | Base Height | Height Modifier | Base Weight | Weight Modifier |
| --- | --- | --- | --- | --- |
| Shi'a | 5' | +2d6" | ?? lb. | x1d6 lb. |
| Fi'la | 5'6" | +4d6" | ?? lb. | x1d6 lb. |
| Sciuridae | 4'6" | +2d6" | ?? lb. | x1d6 lb. |
---
Back to Main Page → 5e Homebrew → Races